Have you ever wondered what materials make up the faucets you use daily? There are many types of faucets in the market made with different materials.
If you're planning to replace your faucet or are curious about its composition, it is crucial to understand what faucets are made of and how they differ. A good faucet should be made of materials with anti-corrosive long-lasting ability.
This article directly answers your question, discussing the materials commonly used in the manufacturing process of faucets. Moreover, knowing the materials can help you decide which faucets to choose for your needs.
So, let's explore the materials and their characteristics in more detail.
What Are Faucets Made of?
A faucet usually comes in either brass, stainless steel, zinc alloy, or plastic.
These materials have distinct characteristics, and we will discuss them in this article section. But first, you must recognize that faucets have existed since ancient times and may be presented in materials other than the ones mentioned earlier.
But to fit into the contemporary world, we would focus on the four types of faucet materials commonly used in this age. So, here they're in detail. 
Brass Faucet
Because brass is durable and lasts for many years, faucets producing companies leverage the raw material to make high-quality brass faucets for the home.
Sometimes, it's hard to differentiate between a brass faucet and a stainless steel faucet because most brass faucets have a stainless steel finish.
The secret about brass is that it is obtained from the combination of copper and zinc alloy. Surprising. Okay, so let's explore some of the benefits and downsides of buying a brass faucet. 
Benefits of Buying a Brass Faucet
A brass faucet is highly resistant to bacteria thanks to the anti-bacterial properties in the alloy. So, using a brass faucet in the kitchen reduces exposure to bacteria when cooking. But that's not all.
A brass faucet is highly durable. It also gives off a beautiful appearance in the kitchen, like an old vintage look. A brass faucet is a 3-in-1 faucet, beautiful, healthy, and durable. It is worth considering if you always want to escape replacing your faucet.
Downsides to Buying a Brass Faucet
With time, the brass faucet erodes and gives a green shade to the faucet. Also, buying a brass faucet can be dangerous due to the lead used in producing brass.
Studies have shown that lead poses severe issues to human health, so using a brass faucet is considered unsafe. 
Stainless Steel Faucet
If you want a faucet that is easy to clean and affordable, a stainless steel faucet is a good choice. A stainless steel faucet is a good faucet with great aesthetic finishes and is lead-free. 
Benefits of Buying a Stainless Steel Faucet
One of the benefits of buying a stainless steel faucet is the absence of lead, unlike the brass faucet.
The stainless steel faucet also does not erode, corrode, or rust, making it long-lasting and needing fewer replacements. I must not forget that a stainless steel faucet is lightweight, easy to clean, and pleasing to the eyes.
Downsides of Buying a Stainless Steel Faucet
The only downside to buying a stainless steel faucet is that the material easily supports the growth of bacteria. Sometimes, bacteria DNA can stay on a stainless steel faucet for a long time.
So, if you buy a stainless steel faucet, the trick is to be extra careful and maintain healthy practices.
Zinc Alloy Faucet
For people with a low budget, the zinc alloy faucet is your go-to faucet. It is durable and more attractive than plastic faucets. 
Benefits of Buying a Zinc Alloy Faucet
You don't have to break the bank by buying a zinc alloy faucet. It is relatively cheap and has a good appearance. 
The Downside of Buying a Zinc Alloy Faucet
A zinc alloy faucet does not last long, and the finishes can easily break down in a moment. Also, the material is not anti-corrosive and eventually demands replacements from time to time.
Plastic Faucets
A plastic faucet is best for showrooms or a house viewing event because they are flexible and prone to breaking.
Don't opt for a plastic faucet if you would use the faucet often because a plastic faucet has the highest replaceable rate.
Benefits of Buying a Plastic Faucet
A plastic faucet is easy to install. It is cheap and lightweight. And yes, it contains no lead and is thus safe to use.
Downsides of Buying a Plastic Faucet
It is good to use except for the many leaks associated with a plastic faucet. But before you go out there to buy a plastic faucet, you must understand that the material is not durable and breaks down quickly.
What is the Best Material For Faucets?
Faucets come in different materials; sometimes, figuring out the best faucet material gets complicated. If you are in a hurry, here's a table with detailed information about the different materials used to produce faucets.
Material of the Faucet
Durability
Price
Attractiveness
Anti-bacteria
Brass
Highly durable
Expensive
Very attractive
High resistance to bacteria
Stainless
steel
Durable
Affordable
Attractive
No resistance to bacteria
Zinc alloy
Slightly durable
Cheap
Attractive
No resistance to bacteria
Plastic
Not durable
Very cheap
Attractive
No resistance to bacteria
The best faucet material is brass because it is durable, attractive, anti-bacterial, and anti-corrosive. A brass faucet is worth considering if you have the money because you will get everything you want in a faucet.
Best Practices to Improve Longer Life for Faucets Made With Different Materials?
The way you care for your faucets also determines their longevity. Below are some ways you can improve the lifespan of your faucet, regardless of the materials it is made of.
Brass: Use a soft wet brush when cleaning, and pay attention to notches. Also, avoid using harsh chemicals for cleaning and polishing a brass faucet.
Stainless Steel: Don't use scouring powder, bleach, and other chlorine products on a stainless steel faucet. Use a paper towel or a clean microfiber to clean a stainless steel faucet.
Zinc Alloy: Like a brass faucet, a zinc alloy faucet does not need harsh chemicals and rough scrubbing for cleaning. A simple eco-friendly cleaning agent and a soft damp cloth are enough to clean zinc alloy faucets and bring them back to shape.
Plastic: Clean a plastic faucet head gently with vinegar and avoid using toxic chemicals on the faucet.
What Metals Are Taps Made Of?
Taps are made with high-speed steel or carbon-tool steel. These metals do not melt when hot water passes through them. Brass and stainless steel are good examples of high-speed steel; you will often find brass taps in your neighborhood. 
Conclusion
Now that you know the different materials faucet are made of and how they differ, buying a good faucet will be a cakewalk. Above all, we recommend purchasing a brass faucet to avoid paying unnecessary bills for replacements. A brass faucet also shapes your kitchen's look invitingly and encouragingly.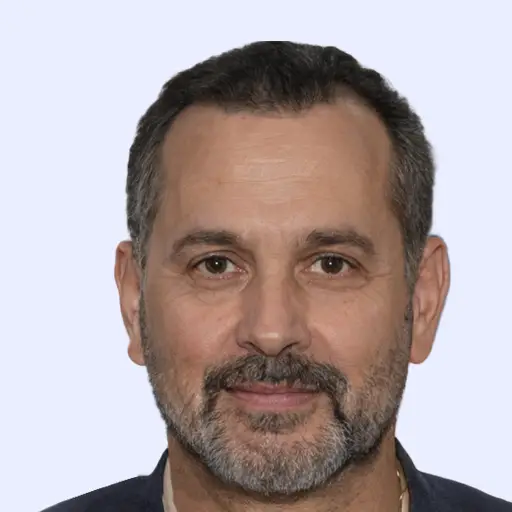 James is an organic fertilizer professional who owns a successful organic fertilizer company in new jersey. He is an expert in waste management in both houses and community cases. In his free time, he loves to write about his experiences in the field.
Was this article helpful?